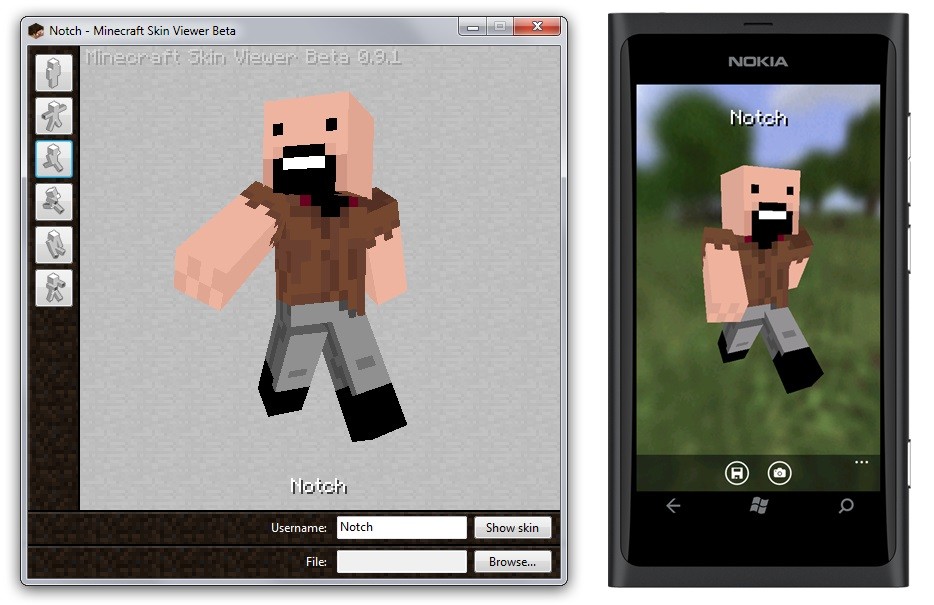 Minecraft 3D Skin Viewer
What is this?
Minecraft Skin Viewer is a simple tool that can display any Minecraft skin. You can type username, browse file or play with drag & drop - fast and simple. The best thing is the ability to pose the model manually, just like an action figure. You can move any body part with the left mouse button. (Description from Minecraftforums.net)
Features
View Minecraft skins on the 3D model
Pose the 3D model like an action figure
Download skins of other users
Export to image
Change the background
Languages
English
Polish
Dutch
Norwegian
French
German
Danish
Swedish
Slovak
Czech
Portuguese
Lithuanian (Language is detected by youre System using)
Usage
Run the program, type your username, press 'Enter' and see yourself
Hold the left mouse button and drag anything you want
Click the right mouse button and choose something from the context menu
Find some skin file and drag it into Minecraft Skin Viewer
Click the right mouse button on some toolbar and change its docking
Have Fun !
Requirements
Windows
.NET Framework 4.0
Download
Just use these download-links to support the owner and scripter of this awesome work ! If they will get support from you, they can do a lot of more things you can use for free !
With this download, you may get an older version of the programm !